Inside Out or Outside In?
A backwards look at how and why we became expatriate nomads.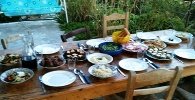 Travel Advisory
Up close and personal with an archeological dig--is that your idea of romance and adventure like in all the stories? Read how to do it at this blog post
Wherever you journey you will get the most from the experience by enjoying the local food and drink. Everything tastes better when you are happy and relaxed. Read more at Taste the Place, Greek Island Wine
Also we have a villa to rent in Aliki, Paros that includes olive oil and vegetables grown on the premises. Greek island villas
Featured Advertisers
Remote Workers in Demand -- Find Your Niche
Audible Audiobooks Special Offers From 99p
Try Amazon Prime 30-Day Free Trial
Have you ever walked down a residential street at twilight as people have turned on their lights but not yet closed their curtains? The homes look so warm, cosy and inviting that you envy these strangers their ideal lives. For that is what they appear as you pass by on the outside, looking in. On such an illusion our ex-pat life is based.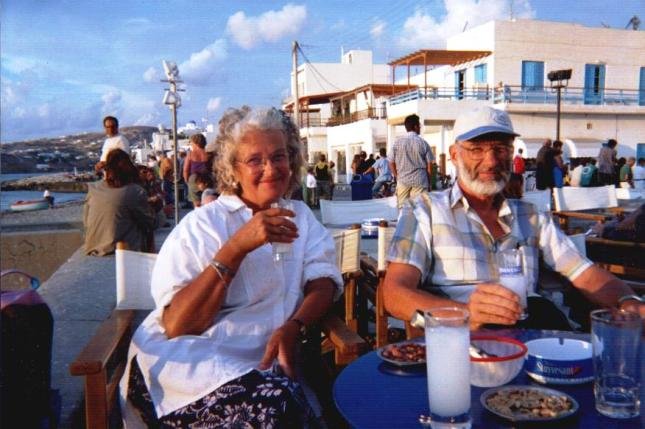 As we have passed through various tourist areas my wife, Karin, and I have looked on the lifestyles of the locals and yearned for their apparent simplicity in the midst of splendour. It started on our honeymoon in Mexico leading us to host a Mexican exchange student a few years later which in turn lead us to visit his and a second student's families in Mexico. The hook was set. Our experience as visitors, as honoured guests of the locals was vastly superior to that of mere tourists gawking at the quaintness of the culture.
Since then we have travelled in many countries and found something to like about each of them. We love the excitement, adventure, discovery, and romance of the foreign. We search for depth; we want to meet the real people not the jaded tourist industry personnel. Both of us are avid students; we learned and studied everywhere we went. We developed an international perspective and felt so worldly wise.
Yet, by the time we got to England we struggled to keep a straight face the first time an English B & B matron asked us, "What time shall I knock you up in the morning?" Our minds were stuck in our teenage phrase for getting pregnant—"knocked up".
Also, we felt duty bound to improve attitudes towards Americans. The gap between perception and reality was first driven home to me when hosting a group of young Nigerian businessmen through Rotary International in Portland, Oregon. As they became comfortable with our open friendliness one hesitantly asked if they could see my gun. "My gun? I don't own a gun!" They all exhaled, for they sincerely believed that they had to be extremely careful not to offend an American or he would whip out his pistol and shoot them dead. After all they had seen it many times in the cinema.
Now fast forward to our youngest child being 22 and out on his own, my 18-year old business humming along OK, and our middle age lifestyle getting boring. We do a house exchange for two weeks in England and find ourselves thinking why not live like this permanently. Back in our safe, comfortable surroundings of hometown, USA we fantasise at all the possibilities and begin researching the alternatives. Two years later we had bought a small grocery store in Ballydehob, West Cork Ireland—mortgaged to the very hilt.
Our family said we were foolish; our friends said we were brave. We replied confidently that we were following our dream but also had all the possible scenarios covered. Everything was planned to a tee. How right they were, how wrong we were.
Upon moving into our living quarters above our shop in a 200-year-old stone building in a picturesque village we discovered the glow of the fireplace off the wood panelling as seen from the street was a false front. We could not get the #&@%# stove to stay lit in the coldest January the locals could remember. The shop assistant who was going to help us learn the trade didn't show up our first morning. The Lotto organisation decided our taking over was a good time to cancel the outlet. Every week for the first year we learned a new and more frustrating difference between doing business in Ireland versus the States.
We also made a few social faux pas. For instance, during Karin's first trip back to Oregon I stayed to mind the shop. our helper was behind the counter chatting about Karin's absence with a couple customers, John and Mary. I sauntered over to make the comment, "It certainly has made a difference in my pants!" They all froze for a long pregnant moment as I tried to figure out what I had said. Mary chuckled and asked, "Oh, how is that, Michael?" And it hit me. "My trousers that is, they have a lot more room," I said as I thumbed the waistband to show them. Everyone laughed and changed the subject. (In Ireland pants refers to underwear, trousers to outer.)
One of our fruit and vegetable vendors, Paddy, was the flirty type. He wore tight jeans and was always making comments to and about our girls. Karin just ignored his occasional double intentres. One fine sunny spring day Karin and I had gone to Schull for lunch. One of us had to be back at two to relieve our help. Karin decided to stay and walk around the warm, pretty harbour with my encouragement that it would easy to get a lift back when she was ready. But when the time came, a couple cars passed without stopping and she felt very uncomfortable. So, she started walking back into town and saw Paddy's lorry. She went over to see when he would be heading back. She complained to him that no one would give her a ride. His mouth dropped open, he smiled, and said, "I'll be glad too." Then Karin remembered that here the common use of ride is sexual slang. Her face turned red and she back-tracked to "A lift, back to Ballydehob and my husband, who expected me an hour ago.
But oh boy, did we enjoy the lifestyle. Young people complain about village life where everybody knows your every coming and going but we found it brought back our youth to know and be known. Karin would go on a "quick" errand up the street and be back 45 minutes later with all the latest gossip. On a busy day driving up the street was like being in a parade with all the waving. We loved the people, we loved the music, we loved the casualness of it all. I don't have the ability to describe Ireland in fewer than 1,000 words. Suffice it to say, I know of no one who visited who did not immensely enjoy it.
Several friends and relatives were persuaded to holiday at our Irish dwelling. They saw that we worked hard to produce a living that would not be up to their standards back home. Yet they, as we did so long ago in Mexico, recognised the joy of immersing themselves into a foreign culture.
Both in West Cork and in Paros we heard many stories of musicians, sailors and the like who came for a short visit and never left. Thus, we were not alone in having succumbed to the delights of a beautiful life compared to a prosperous one. The everyday gorgeous scenery somehow wins out over suburban buildings and traffic.
After five years of operating losses we liquidated the business, made a profit on the property and began searching for a way to turn our hard-won experience into an income. Our eyes drifted South to the land of Socrates, Plato and warm sun—where truly the locals must live a charmed life. Once in Athens the first two people I asked recommended Paros. So I quite asking and went there.
Once again we are spending the profits of our earlier life while struggling to make ends meet. During my regular afternoon swim at Lividia Beach with the beautiful bodies on the sand, the attractive buildings along the harbour and the mountains as a backdrop to the warm water and sun I thought: Lord help me remember this scene when I am old and poor in a public nursing home.
The cycle continues as we offer our life-style to friends and family—share our piece of paradise on your holiday and gain an insight to the Greek culture, then return to your land of hypermarkets, traffic and high-paying jobs while we spend our winter with wind, rain and ouzo at €3.50 per litre.
Karin and I are still wandering the residential areas peeking at the bougainvillea-covered terraces wondering what it would be like to live in that house. It has to end some time, I guess. We can retire as soon as I win the lottery.
Related Content
For a light hearted look at earning a living abroad check out my Work at the Beach page
Back to
Expatriate Page
Back to
Home Page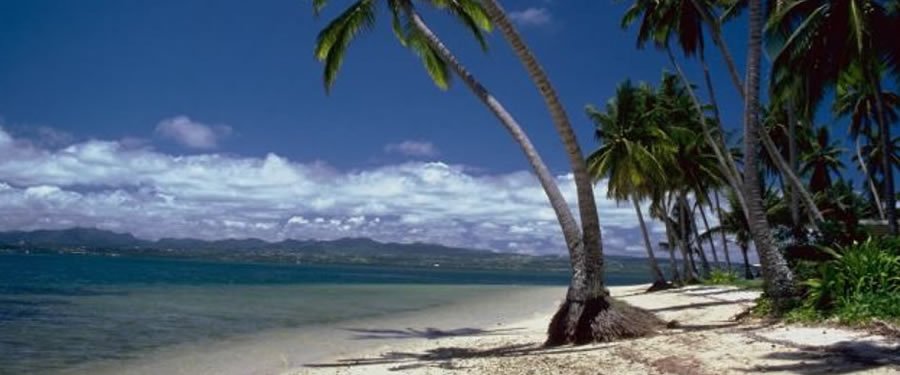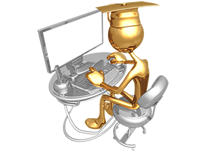 Our experience will enhance your experience!